Here is a few parties you might want to check out when you are out in Miami…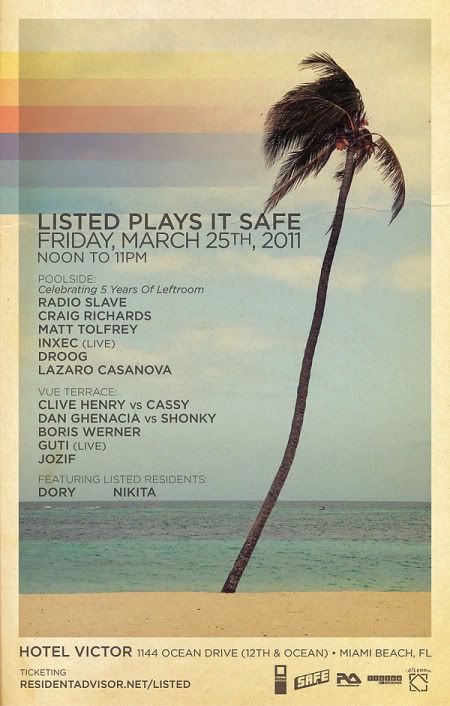 3.25 – WMC 2011 – Listed Plays It Safe at Victor Hotel
listed has joined forces with Miami natives, SAFE, to bring you a line-up that's anything but cautious! Join us at the beautiful beach-front Victor Hotel rooftop patio and poolside on Ocean Drive for an all-day affair!
listed and SAFE present a divine 11 hour line-up on the patio terrace with stellar views of the beach and busy Ocean Drive. Enjoy the open air atmosphere and transport yourself to your "happy place" while we welcome some of our favorite artists to accompany us on this unique musical journey. Clive Henry vs. Cassy, Dan Ghenacia vs. Shonky, listed's Dory, Guti (Live), the Miami debut of Boris Werner, and more TBA!
On the left side the Leftroom crew takes over to celebrate 5 years of relentlessly addictive music with Matt Tolfrey, Craig Richards, Radioslave, Inxec (Live), Lazaro Casanova, Droog, and listed Resident, Nikita, so bring your swimsuit and plan to spend the afternoon getting silly by the pool!
Tickets available at the door, presales are encouraged to ensure entry.
http://www.residentadvisor.net/event.aspx?235058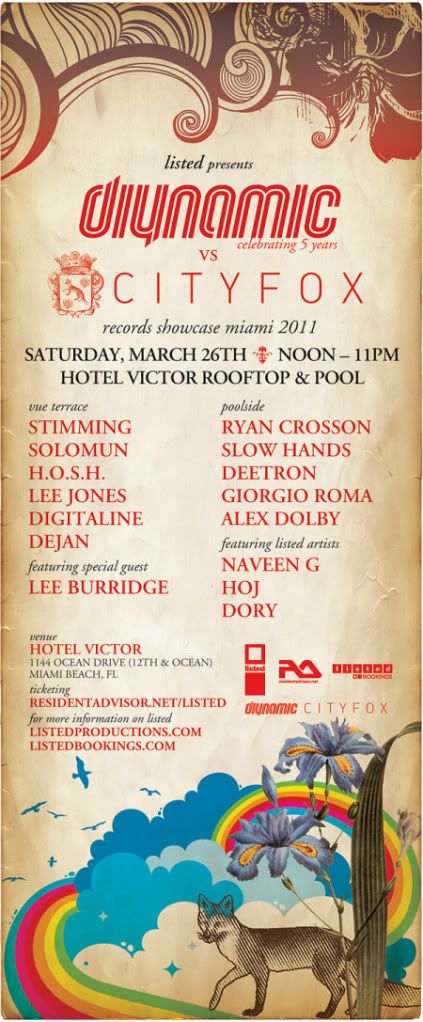 -2 Areas of Sound, Poolside and Terrace/Patio
-Full Bar and Lounge Area
-Comfortable Seating and Open Air Atmosphere
-11 hours of great music!
Tickets @  http://www.residentadvisor.net/event.aspx?235059
Victor Hotel-Rooftop & Poolside(Two Areas of Sound)
1144 Ocean Drive (btwn 12th and Ocean Drive)
noon-11pm